What is a Passive House (or Passivhaus)?
Passive buildings provide a high level of occupant comfort whilst using very little energy for heating and/or cooling. They are designed and built with meticulous attention to detail according to principles developed by the Passivhaus Institute in Germany and can be certified through an exacting quality assurance process.
The creation of the Passive House standard was led by building physicist Wolfgang Feist as a modern approach to reducing energy demand. It is a rigorous benchmarked standard and is fast becoming the world-leading approach in environmentally friendly housing.
Passive House takes a holistic, multi-strand approach to building design and construction. It strives to achieve high efficiency in several areas to reduce overall energy consumption, locking in low energy bills and protection from energy cost inflation.
Passive Houses don't necessarily appear any different from houses we are used to, but their comfort and energy performance is much greater than that of existing housing stock and far exceeds current Building Regulations for new build properties. The principles of Passive House can also be applied to existing properties by retro fitting to the Passive House Institute's EnerPHit standard.
The main features of Passive House construction are...
Fabric first-very high levels of insulation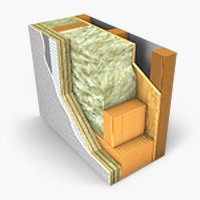 Passive houses are insulated to a significantly higher degree than a standard current building regulations compliant build, giving the structure a much greater ability to keep heat in – or out. Materials are carefully selected for the required breathability and weather-tightness of their intended location within the building.
A 'fabric first' approach to building design involves maximising the performance of the components and materials that make up the building fabric itself, before considering the use of complex and expensive mechanical or electrical building services systems.

Thermal bridge free construction
Thermal bridges are parts of the building structure that transfer heat from inside the building to the unheated exterior. In the example shown, heat from inside the building is bridged to the exterior through the uninsulated structural element inside the wall. Other examples could include an uninsulated window frame or structural members that portrude to the exterior of the building. These function as heat leaks, drawing heat out of the building day and night, causing high energy usage and therefore high heating bills.
Most traditional buildings have many thermal bridges as they were not considered during the building design process until fairly recently. Remedying them in existing building can be complicated and expensive.
In Passive House design the thermal bridges are designed out ensuring the building's jacket of insulation wraps around the whole structure.
Airtight building fabric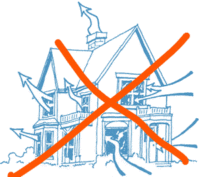 'Airtightness' means eliminating all unintended gaps and holes through which air can move in or out of the heated envelope of the building. These air leaks can account for up to 50% of all heat losses and are usually caused by poor building design, poor workmanship and the use of wrong or inappropriate materials.
Good airtightness prevents this uncontrolled air movement and minimises heat loss, allowing your heating system to work more efficiently, thereby reducing heating bills and energy wastage. It also helps to maintain thermal comfort by eliminating any draughts.
It is important to remember that an airtight building does not mean it is hermetically sealed, rather it means that unintended air leakage has been reduced to a minimum. Airtightness works in conjunction with a properly designed ventilation system which controls the flow of fresh air into the building.
Building durability is enhanced through airtightness by preventing damage caused by moisture-laden cold air leaking into the building envelope and condensing. This prevents damp and mould growth in the building fabric and vastly improves indoor air quality which, in turn, has obvious health benefits.
Passive Houses require an airtightness of 0.6 air changes per hour or less. This is 15-20 times less draughty than UK building regulations require!
Last but not least, achieving good airtightness necessitates a higher focus on build quality and workmanship.
Extremely high performance windows and door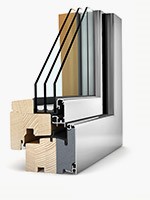 Meeting the Passive House standard requires high performance triple glazed windows and highly insulated doors, possibly with insulated frames. Although they may look the same as standard windows they perform to a much higher level, reducing the buildings heating requirements and improving comfort.
Mechanical ventilation with heat recovery (MVHR)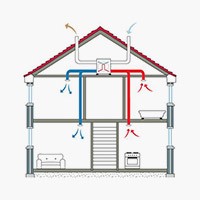 MVHR recycles the heat within your building while ensuring a constant supply of fresh air to every room. It works silently in the background, exhausting stale air generated in the kitchen and bathroom, harvesting the heat within this air and using it to heat fresh, incoming air via a heat exchanger. This warm, fresh air is then distributed into the rest of the house. It can also filter pollen and toxins from the air giving excellent indoor air quality. The high level of airtightness required in a Passive House goes hand in hand with a high efficieny MVHR system.
So why choose Passive house?
Save money
Passive House buildings achieve around 75% reduction in space heating requirements on average, compared to standard practice for UK new build. This can mean savings on fuel bills of over £1,000 per year for a four-bedroom family home.
Passive House buildings have far lower lifecycle costs than traditional buildings thanks to the significant energy savings and the use of high quality components which need much less maintenance.
Save the planet
Passive House buildings save energy and reduce greenhouse gases – not just a little but a great deal!
The Passive House standard therefore gives a robust method to help achieve the 80% carbon reductions that are set as a legislative target for the UK Government. Passive House can also be applied to retrofit projects, achieving similar savings on space heating requirements in refurbished housing stock.
A better quality building
Because every aspect of the Passive House is carefully planned and specified at design stage, nothing is left to chance with regard to materials or construction. Each stage of the build has to be carried out fully and accurately to a high level of workmanship by the builder. This acts as a guarantee for clients, both in terms of build quality and in the outcome of their buildings performance.
Evidence and feedback to date shows that Passive House buildings are performing to standard, which is crucial, given that the discrepancy between design aspiration and as-built performance for most other new buildings in the UK can be as much as 50-100%.
A more comfortable home
A Passive House is warm, free from draughts, free from cold spots, free from excessive over heating and provided with a constant supply of fresh, clean air. The high performance insulation and windows installed in Passive House buildings also make such buildings extremely quiet. If your building is located in a busy urban area, you will be protected from noise pollution and can enjoy a peaceful home.
Let us help you with your building project